---
Testimonials
---
"Workmanship of the highest standard."
It has been a pleasure to have Brisbane Pools and Landscapes renovate our old swimming pool. Jordan and his team of highly skilled workers delivered a job that we are so proud to show our friends. BPL accommodated our needs without a fuss. If there was something that we were a little concerned about they made the necessary changes without delay. We are very, very happy with our beautiful back yard and cant thank the team at Brisbane Pools and Landscapes enough. Thank you.
- Gary , Paddington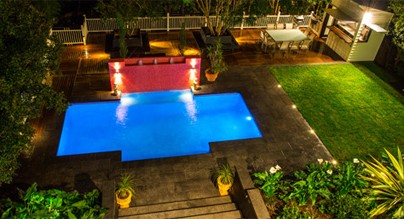 Completed work: Paddington
---
Murrarie
by Jason & Chantell
"Stunning"
Thank you very much Jordan for our amazing swimming pool and spa. Thank you for your hard work and persistence in making sure you delivered what you promised and what we expected. The stunning water feature that you designed is unlike anything that we have seen before and still to this day we receive many compliments. It really does add that wow factor to our property. Thank you once again.
- Jason & Chantell, Murrarie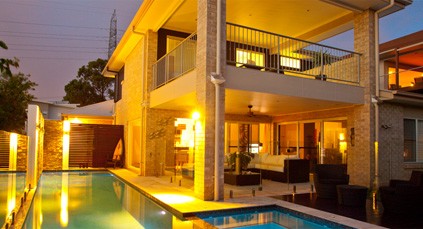 Completed work: Murrarie
---
Burbank
by Maura and Peter Bagster
"ATTENTION TO DETAIL"
We highly recommend Brisbane Pools and Landscapes. We found Jordan and Scott very professional, thorough and committed to a quality job. At each stage of the process Jordan provided accurate advice that assisted us in the many decisions involved. He was prompt and reliable at each step. He was patient with our decision making process. During construction Scott was everpresent and reassuringly attentive. The attention to detail from all was excellent and as a result we couldn't be happier with our final product.
We would certainly use their company again in the future without hesitation.
PB and MB
- Maura and Peter Bagster, Burbank
---
Wakerley
by Annette and Neil Williams
"THANK YOU FOR OUR DREAM POOL"
Neil and I would like to thank Jordan and his team for the fantastic and wonderful job they did on our dream pool. From the first meeting with Jordan we knew he was listening and understood us and what style we were after. He had some fantastic and innovative ideas that would make our dream pool even better. Each organised step he kept us well informed and while the work was being done,with his own team of qualified tradesmen, they kept the backyard neat and tidy. The fountain is the masterpiece and his advice on colour suit our style perfectly.His attention to detail and perfection is also reflected in the wonderful plants and gardens he did around the pool. Each time we swim in the pool we are so so happy that we chose Jordan and his team, it is just perfect and his attention to detail is superb.
We absolutely love our pool and would not hesitate to recommend him. Thank you thank you for our dream pool. :):):)
- Annette and Neil Williams, Wakerley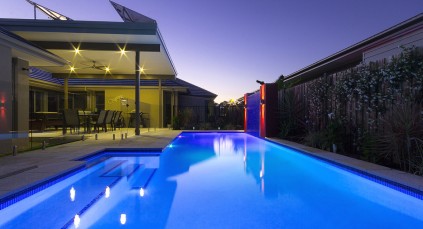 Completed work: Wakerley
---
Camp Hill
by Heath and Emma
"No Expense Spared."
When my husband, and I started looking around at a few pool builders, getting various quotes, we realised quickly that Jordan was an extremely professional, organised, and innovative person - not unreliable, not a cowboy, and not builder who built cheap pools that looked like they were designed and built in the 1980's. At first when we were considering getting a pool, I was worried that we were embarking on a destructive, stressful process, which simply wasn't the case at all. Jordan spent the time providing the most incredible design that met all must-have items on our list while meeting other requirements we didn't know about yet. His advice ensured that we have a beautiful modern pool. The in-floor cleaning system installed and recommended by Jordan was one of the best things we ever did. Jordan organised trades that were available on the day and scheduled work in a way that saw our pool being built quickly with little disruption. Jordan took time with us and was always available to talk, which in my books rates the process we experienced with Brisbane Pools and Landscaping, the best I could have asked for, and something I would have no trouble recommending to anyone who will listen!
Emma Little
- Heath and Emma , Camp Hill
---
"Wonderful to work with."
My wife and I would like to thank the team at Brisbane Pools and Landscapes and Brisbane Prestige Homes on our amazing swimming pool and outdoor Pavilion. Jordan and Scott worked tirelessly on our project to deliver something that still amazes us to this day. From design to completion they were outstanding. We would like to highly recommend the design services that Brisbane Pools and Landscapes offer as this really helped us visualise the final out come before we even started. Thank you once again for your hard work and we wish you all the best in the future.
- Darren, Morningside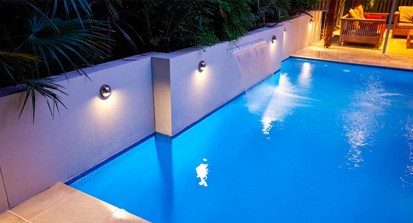 Completed work: Morningside
---
Manly West
by Melanie and Douglas
"First Class Design & Service"
When we embarked on the initial steps of enquiring for a swimming pool we had several pool builders come and discuss our options. It wasn't until we sat down and spent time with Jordan from Brisbane Pools and Landscapes that we realised the potential of our back yard. Unlike anyone we spoke to previous he outlined the importance of getting a formal design completed before entertaining any other thoughts. Although this came at a cost, in hind site we realise that it was the best advice we were given. Not only did Brisbane Pools and Landscapes offer this service but we soon realised that they would project manage every single aspect of our job. This was a huge relief as every other builder we spoke to would only complete certain aspects of the job due to licencing constraints. From design to construction and completion of our project we were astounded at their creativity, professionalism and quality of work. Simply put Scott and Jordan did an amazing job of swimming pool and landscaping.
- Melanie and Douglas, Manly West
---
Camp Mountain
by Shaylene and John
"First-class service & quality comes at a cost."
We are very pleased to recommend the services of Brisbane Pools and Landscapes. For us building our swimming pool and landscaping project was a massive investment and we treated it as any other investment. After looking into several high end pool builders and landscapers we decided on using Brisbane Pools and Landscapes. The things that immediately made Jordan stand out from the rest was his enthusiasm, knowledge, attention to detail and creativity. Unlike many other builders his focus was not on price, but delivering a project that would complement our lifestyle and add value to our property. The real clincher was when we new Jordan would continue with us though the entire build. When you endorse a company you place your own reputation on the line so this is something we rarely do. However we happily refer friends and family to Jordan with full confidence. Thanks once again.
- Shaylene and John, Camp Mountain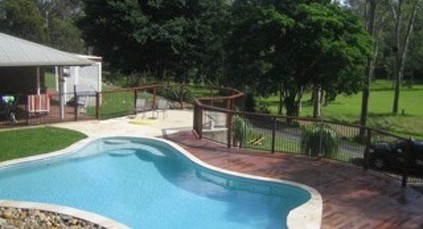 Completed work: Camp Mountain